SCIENCE FICTION AND FANTASY ANTHOLOGIES
Anthologies offer a selection of the best stories and most interesting ideas in the science fiction, fantasy and horror genres. Anthologies collect the works of established masters and cutting-edge new authors. Because of the shorter length of the stories, anthologies fit into almost any busy schedule. The collections depicted here are but a few of the hundreds we recently added.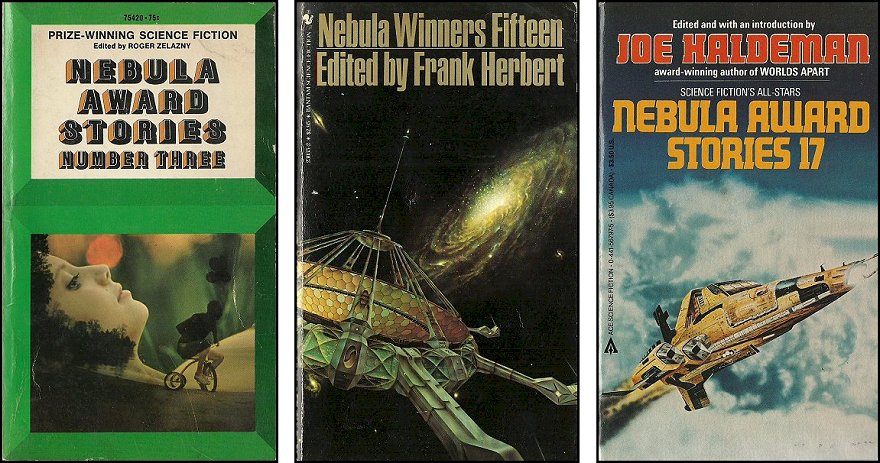 NEBULA AWARD ANTHOLOGIES
Number Three: edited by Roger Zelazny. Includes works by J. G. Ballard, Harlan Ellison, Samuel R. Delany, Fritz Leiber,
Michael Moorcock, and Anne McCaffrey, among others.
Number Fifteen: edited by Frank Herbert. Includes works by Jack Dann, George R. R. Martin, Vonda M. McIntyre,
Barry B. Longyear, Edward Bryant, Ben Bova, Joanna Russ, and Orson Scott Card.
Number Seventeen: edited by Joe Haldeman. Includes works by Algis Budrys, Kim Stanley Robinson, Jack Dann,
William Gibson, Poul Anderson, Gardner Dozois, Michael Bishop, John Varley, Gene Wolfe, among others.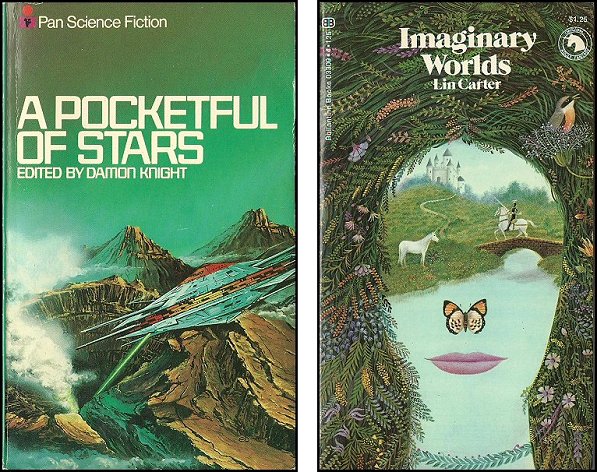 A POCKETFUL OF STARS edited by Damon Knight, Pan, UK ed., 1974
Includes works by Fritz Leiber, Gordon R. Dickson, Harlan Ellison, Gene Wolfe, Terry Carr, Avram Davidson, Damon Knight, Keith Laumer, Kate Wilhelm, Ben Bova, James Sallis, and Joanna Russ, among others.
IMAGINARY WORLDS by Lin Carter, Ballantine Adult Fantasy, 1973
A collection of essays about Fantasy.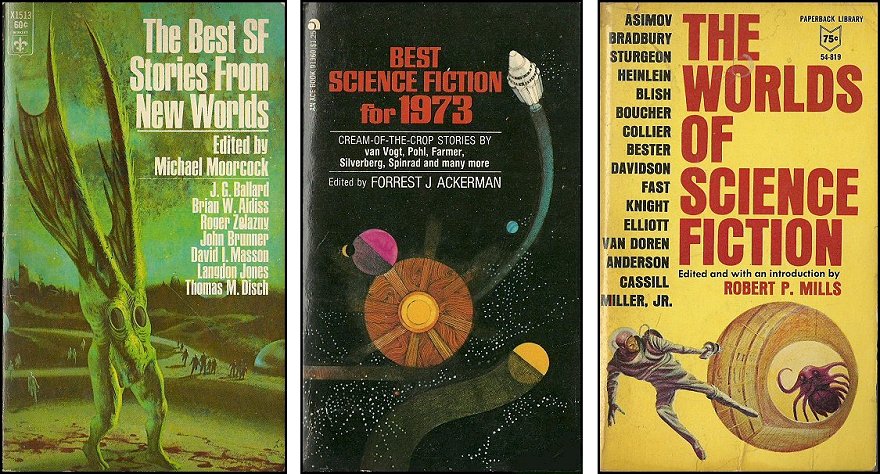 THE BEST SF STORIES FROM NEW WORLDS edited by Michael Moorcock, Berkley, 1966 Includes works by Brian Aldiss, Roger Zelazny, J. G. Ballard. John Brunner, and Thomas M. Disch, among others.

BEST SCIENCE FICTION FOR 1973 edited by Forrest J. Ackerman, Ace Books, 1973 Includes works by Norman Spinrad, Robert Silverberg, Philip Jose Farmer, Frederik Pohl, Robert Bloch, and A. E. van Vogt, among others.

THE WORLDS OF SCIENCE FICTION edited by Robert P. Mills, PBL, 1963
Includes works by Howard Fast, James Blish, Ray Bradbury, Robert A. Heinlein, Damon Knight, Theodore Sturgeon, Poul Anderson, Avram Davidson, Anthony Boucher, Isaac Asimov, and Alfred Bester, among others.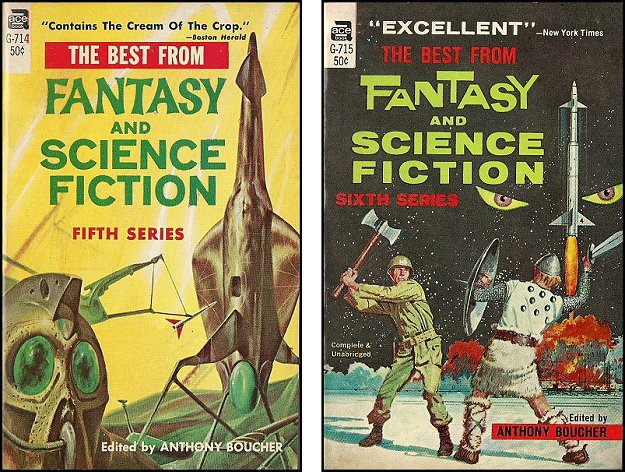 THE BEST FROM FANTASY AND SCIENCE FICTION edited by Anthony Boucher, Ace Books
FIFTH SERIES, 1956. Includes works by Damon Knight, Arthur C. Clarke, Zenna Henderson, Charles Beaumont, Shirley Jackson, Walter M. Miller, Jr., L. Sprague de Camp, Richard Matheson, and Isaac Asimov, among others.

SIXTH SERIES, 1957. Includes works by C. M. Kornbluth, Avram Davidson, Frederik Pohl, Poul Anderson, Charles L. Fontenay, C. S. Lewis, Ward Moore, Theodore Sturgeon, and Ray Bradbury, among others.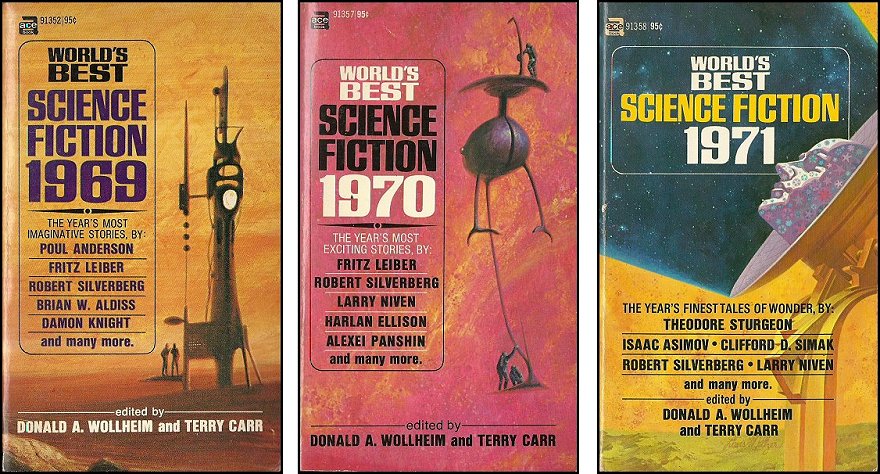 WORLD'S BEST SCIENCE FICTION edited by Donald A. Wollheim
and Terry Carr, Ace Books
1969: Includes works by Robert Sheckley, Poul Anderson, Robert Silverberg, Brian W. Aldiss, Damon Knight, Samuel R. Delany, R. A. Lafferty, Sydney van Scyoc, Kurt Vonnegut, Jr., Fritz Leiber, and Fred Saberhagen, among others.
1970: Includes works by Richard Wilson, Robert Silverberg, Larry Niven, Alexei Panshin, James Tiptree, Jr., Keith Roberts, Harlan Ellison, Fritz Leiber, Norman Spinrad, and Ursula K. LeGuin, among others.
1971: Includes works by Theodore Sturgeon, Larry Niven, Robert Silverberg, Bob Shaw, Isaac Asimov, R. A. Lafferty, Clifford D. Simak, Gregory Benford, Gordon Eklund, and Ron Goulart, among others.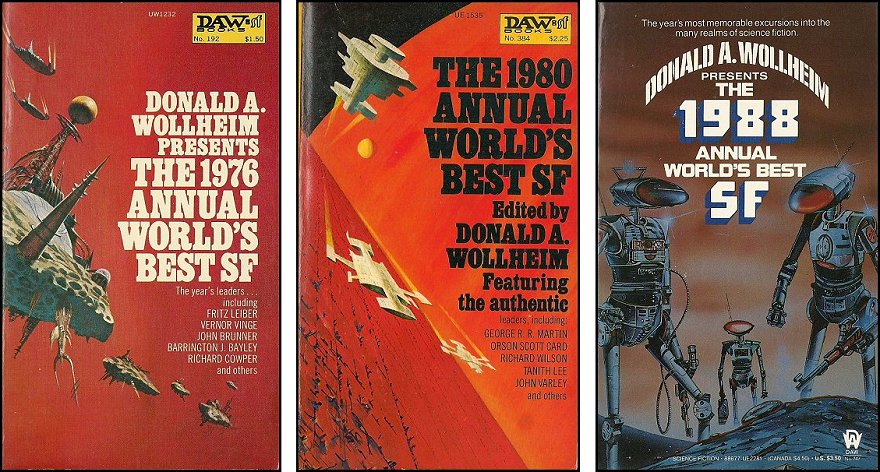 Donald A. Wollheim Presents THE ANNUAL WORLD'S BEST SF, DAW BOOKS
1976: Includes works by Fritz Leiber, Joan D. Vinge, Vernor Vinge, George R. R. Martin, Brian M. Stableford, Michael Bishop, and John Brunner, among others.
1980: Includes works by George R. R. Martin, Somtow Sucharitkul, John Varley, Orson Scott Card, Connie Willis, Larry Niven, Tanith Lee, and Joanna Russ, among others.
1988: Includes works by Robert Silverberg, Pat Murphy, Orson Scott Card, Tanith Lee, Lucius Shepard, Pat Cadigan, Kate Wilhelm, James Tiptree, Jr., and Walter Jon Williams, among others.
For more Information Visit the Store or Call
703-536-2511